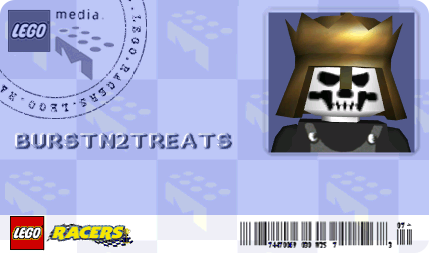 "First I'm gonna take your ride, then I'm gonna take your girl. Get ready for that." – Clarence "Razor" Callahan, Blacklist #1
Welcome
Hello stranger! This is my personal home page on the World Wide Web. I enjoy writing about my favorite video games and other random thoughts. I have a variety of content planned for this site. Stuff you can read, glance at, or download. Please be patient while I work slowly as these things will take time. Meanwhile on the other side of the Web, here are a few projects of the past I have been involved with:
BurstIntoTreats was a Wordpress blog about RollerCoaster Tycoon 2 using this same anonym. I wrote a guide on how to install the game and play it on modern Windows systems. It started as a simple Pastebin link when the game was seeing a spooky resurrection. The blog served over 67,000 hits since 2012, but it was suspended almost exactly two years later.
Half-Life Bumper Cars is a mod released in 2003 for the original Half-Life. It transformed the first-person shooter into bumper car combat with kart racing style power-ups, maybe about 11 years before Team Fortress 2 did it too. Playable characters include ones from official Valve games and popular Half-Life mods for cross-over dream matches. The mod was officially recognized on page 151 of the Half-Life 2: Raising The Bar uncorrected proof. I joined the team to help ship the first Steam-compatible release, and got my first taste of amateur game development in junior high.
Half-Life Creations is a modding community spun off from Half-Life Improvement. It served as a forum for Half-Life content creators to showcase their creativity with 3D models, texture work, animations, and level design. I did the web design for Half-Life Creations including the latest makeover celebrating its 10th year anniversary.
---
Tidbits
Thank you for taking the time to look at my website. If you enjoyed your stay, please consider following me just as these kind people did. Here is some trivia to round up the milestones of the past and present:
Did You Know
(Calculating...)

people had turned up here by mistake.

(Counting...)

Neocities neighbors are graciously following this site (thanks).

(Searching...)

was the last time content got updated.
To-Do List
Create a site on Wordpress. ✓ Mar 21, 2012
Reach 65,000 hits. ✓ Mar ??, 2014
Get suspended from Wordpress. ✓ Apr 1, 2014
Become a resident of Neocities. ✓ Mar 23, 2016
Reach 20,000 hits. ✓ Aug 9, 2018
---
What's Cool?
Technology & Web
Music & Listening
Arcade
wipE'out"
Half-Life
Diablo
Mortal Kombat
DOOM & Quake
Game Commentary & Development
Gaming
---